Croque Monsieur Protein Bread Pudding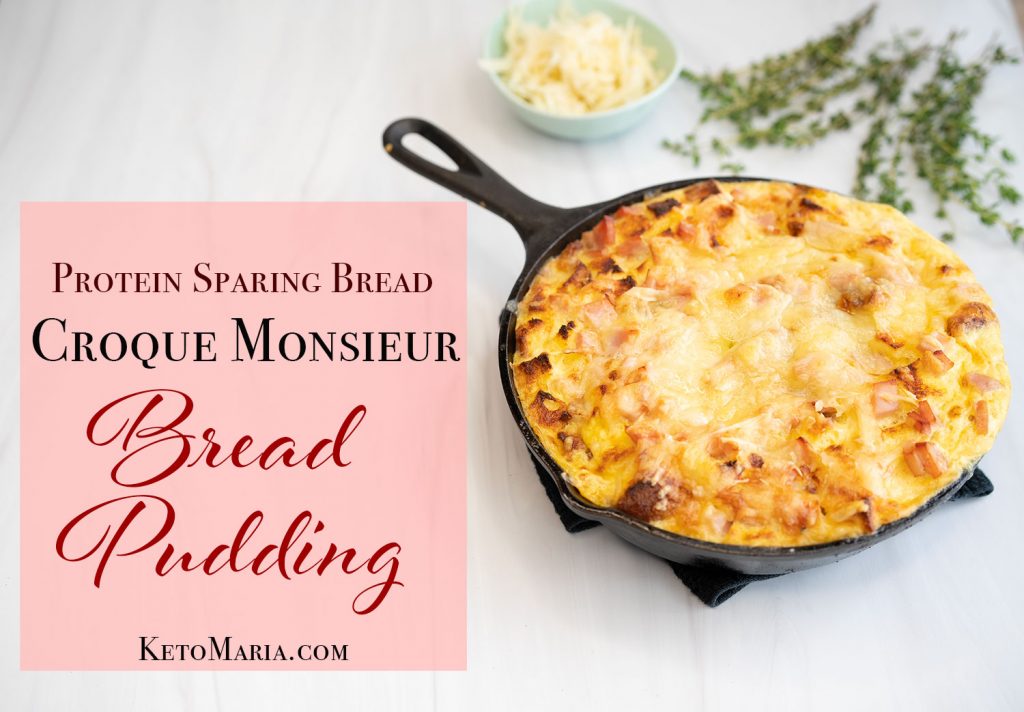 Easter is coming! I love Easter brunch and the past few years it always includes a recipe using my protein sparing bread! This year I am making my protein sparing bread Croque Monsieur Bread Pudding!
Croque Monsieur bread pudding is filled with ham, Gruyere cheese, onions, garlic and thyme.
My son Kai did not want to be the taste tester for this but once he took a bite, he quickly asked for a large piece!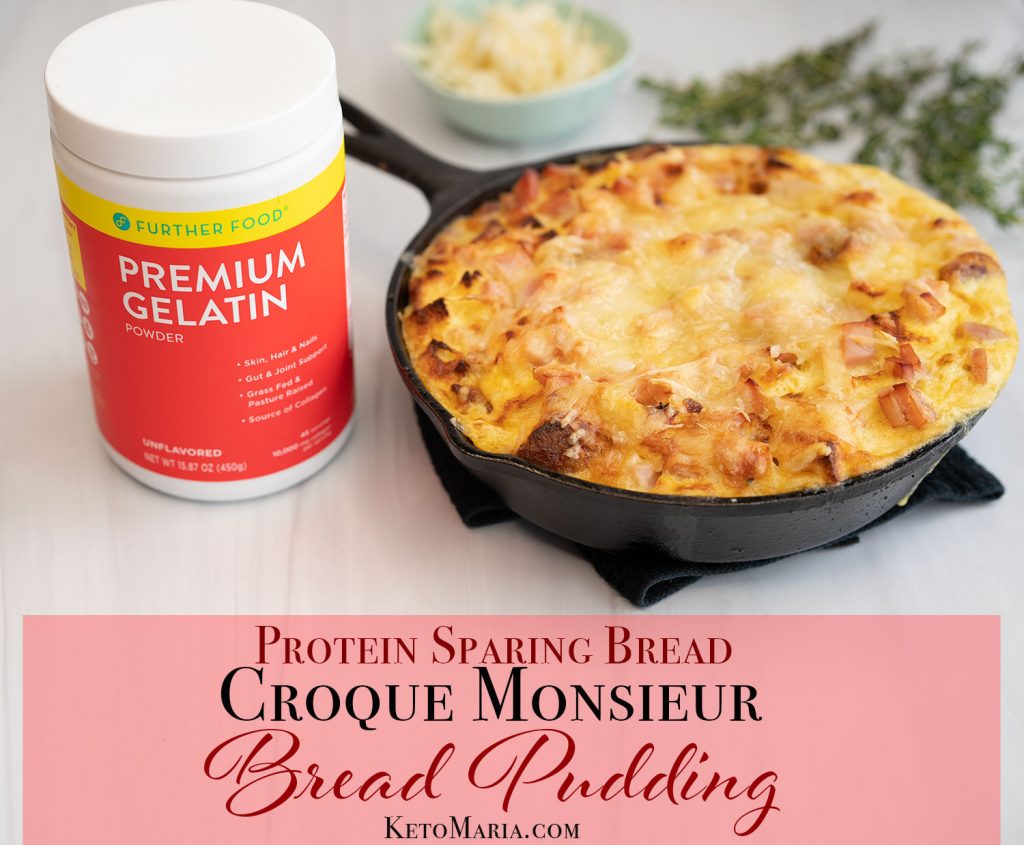 HOW TO MAKE PROTEIN SPARING BREAD CROQUE MONSIEUR BREAD PUDDING
To make my protein bread for Croque Monsieur Bread Pudding, I used Further Food Gelatin!
Further Food gelatin and collagen peptides are both excellent sources of collagen. Both their Collagen & Gelatin are sourced from the highest quality, grass-fed, pasture-raised, hormone-free, and antibiotic free bovine collagen.
The benefits of collagen and gelatin are amazing! Just eating my delicious Protein Sparing Bread helps support skin elasticity & hydration, longer hair & nails, stronger bones & joints, faster recovery between workouts, increased flexibility, improved digestion, and it even keeps you feeling full and satisfied for longer!
Further Food Collagen Peptides dissolve instantly in any recipe, and Gelatin Powder naturally thickens recipes. It's perfect for making my protein sparing bread have a chewy bread texture! It also makes dairy free ice cream, jello, sugar free gummies, no bake cheesecake, or panna cotta!
Use code MARIAMINDBODY for 20% off site-wide !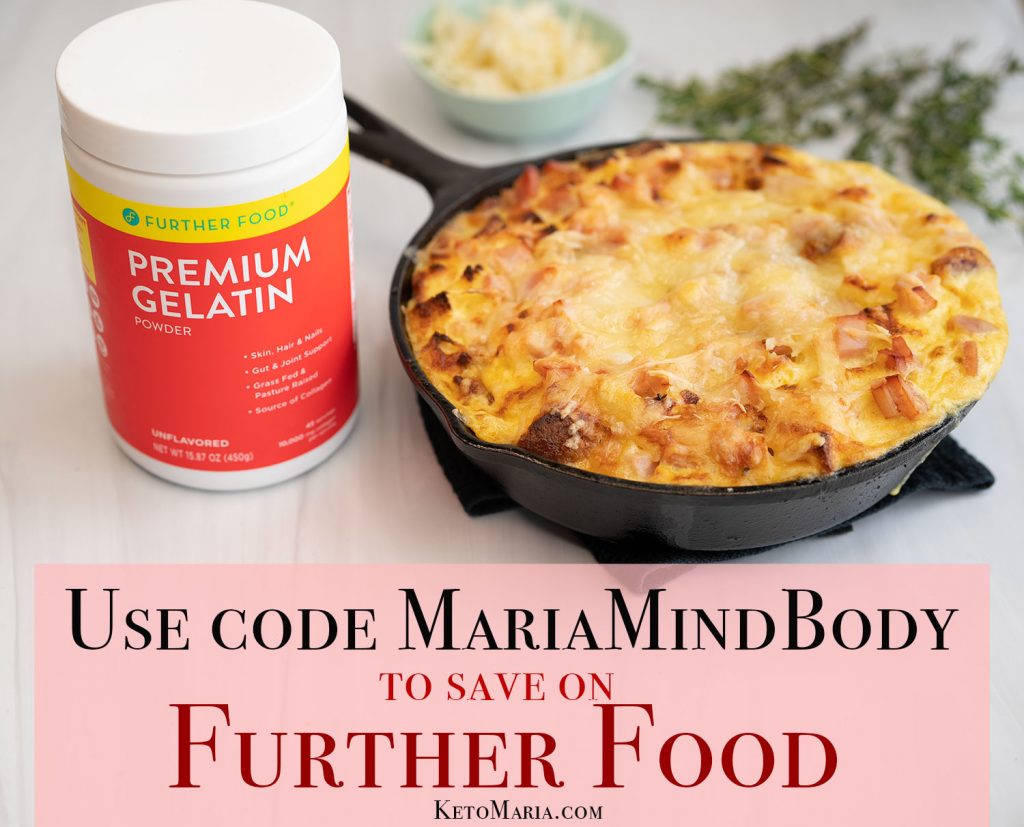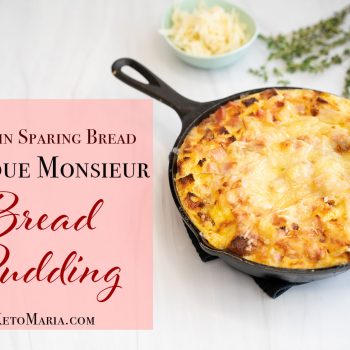 Croque Monsieur Protein Bread Pudding
Maria Emmerich
CHEWY PROTEIN SPARING BREAD:
Preheat the oven to 325 degrees F.

Separate the eggs (save the yolks for another recipe like my keto ice cream, hollandaise, mayo or lemon curd), and place the whites into a large CHILLED bowl or stand mixer (if the bowl is warm, it activates the gelatin and will gum up). Add the allulose, gelatin, salt and cream of tartar if using and whip the whites for a few minutes until VERY stiff.

Turn the mixer to low and gently mix the egg white protein powder into the whites.

Note: If adding yolks, lightly combine. But note, the yolks will increase fat and can increase the likelihood of falling.

Grease a bread pan with avocado oil spray and fill with Chewy Protein Sparing Bread mixture.

Bake for 30 minutes or until golden brown. Turn the oven off and leave the bread in the oven for 15 minutes to prevent the bread from falling.

Let it cool completely before cutting or the bread will fall. Cut into cubes and set aside.

To make the Croque Monsieur Bread pudding, place the butter flavored coconut oil into a skillet over medium high heat. Add the chopped onions and sauté for 3 minutes. Add the garlic and thyme and saute another minute. Remove from heat and set aside.

In a large bowl, place the eggs, cream, broth, Dijon, hot sauce and salt. Stir well to combine.

Spray avocado oil spray into an 11 by 7 inch baking dish. Place half of the cubed bread into the dish. Top with half of the shredded Gruyere cheese, diced ham and half of the onion mixture. Repeat with another layer of bread, cheese, ham and onion mixture. Pour the egg mixture into the dish to cover the bread. Cover and refrigerate for 3 hours or overnight.

When ready to bake, preheat oven to 325 degrees F. Bake for 30 minutes, then remove from the oven and sprinkle the Parmesan on top and increase the temperature to 375°F. Bake for another 15 minutes or until the Parmesan is golden.

Remove from oven and allow to sit for 5 minutes before slicing. Serve with hot sauce if desired.
Calories: 314 | Fats: 19g | Proteins: 30g | Carbohydrates: 3g | Fibers: 0.2g | P:E Ratio: 1.4
"Almost one year to the date I received my Certification as a Keto Coach, one of my awesome clients shares this! To say my heart is full is an understatement! Thank you Craig Emmerich & Maria Wojcik Emmerich for the opportunity you've given me to change people's health & lives by offering this. You're my inspiration! Thank you Tasha for your incredibly kind words!! I LOVE being your coach!!"
Most people I consult are doing keto totally wrong. Get fast results with the my NEW Keto Packages!
Click HERE to check out my NEW Keto Packages!